One side affect of disappearing for a year is one accumulates a lot of stuff on ye ole hard drive. Perhaps something here might be of interest/use to someone here.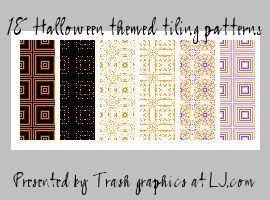 (
Links + 2 sets of Halloween Brushes
Collapse
)
It's a Halloween Dump friends :)
trash_graphics
third annual Halloween icon post (meh, better late than never, no?)
(
This is Halloween
Collapse
)
Woot! It's
You can either a.)use a single letter as an user icon, fun for those who like initials, or b.)you can string them together to make a word, perhaps for your user info, or in a comment to a friend to wish them a Happy Halloween.
(
Read more...
Collapse
)
Yupper, another set of these bad boys.
18 of Madge from Hung Up.
Ok ok, yes, it's been very slow here i'll admit, but it's only because summer has hit us full force in my neck of the woods, and as one of my flist friends has been so quick to point out, I have become farmer
lasciviae
. I just felt I should mention this for the newer members of this community, as
trash_graphics
is not going anywhere, especially being that Trash is about to celebrate it's 2 year anniversary. Yay!
Anywho, 18 Outkast icons
(
The coolest Motherfunkers on the planet
Collapse
)
Hiya community friends.